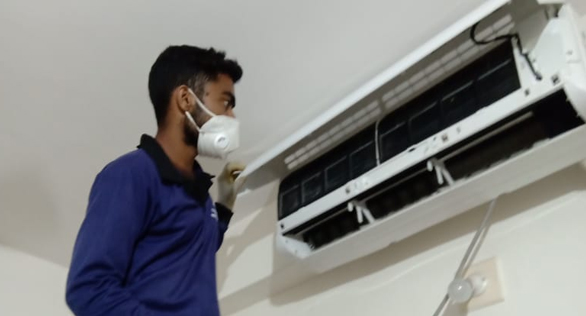 Hello people of Barodian.
Does your AC needs SERVICING and you're annoyed about finding SERVICE provider for it in Vadodara ?
Our company is here to resolve all your problems and issues.
We are the best service provider for all problems related to your AC in Vadodara.
We provide service for all aspect related to Air Conditioners. We provide service for all types of AC's.

AC services are essential to keep your family healthy. It's because dirty air conditioners invite a plenty of life-threatening health issues. For example:
Breathing issues
Threats to your physical immunity
lungs related issues
These issues are just an example of what a bad AC can do to your health.
For that you need professional experts and that's us.
Moreover, Air conditioner repair job involves many complexities and risks. Many AC repair professionals fall and get injured while installing reinstalling or uninstalling an air conditioner. At times, they face electric shocks too.
Our job is to make sure you don't catch any health issue because of bad/dirty air conditioner. That's why don't think or hesitate for paying some extra bucks to air conditioner repair professionals to get it right for a long time. Contact us and get the best out of your money spent.
Time is a very important commodity these days. So don't waste your time on immature and inexperienced people and contact us for fast and efficient service.
When You Need Reliability, Choose Cool Zone
At Cool Zone, we've built our entire business around the idea that our customers deserve the best possible treatment, starting with trustworthy technicians. In many instances, local One Hour locations are owned by technicians who have been serving and building trust with their local community for decades.
Every one of our technicians is licensed, qualified, and receives regular training to stay up-to-date with the latest developments and products in the industry. We want you to be happy, so we back all of our work with a third-party guarantee. This way, you can be certain that we are accountable to provide a high level of service on every visit.
Every Cool Zone location is independently owned and operated so you can be certain that you're getting a local expert. We'll arrive at your home on time and work with your needs, preferences, and budget to make sure that you're completely satisfied with our work! Every job by Cool Zone is backed with the UWIN Guarantee. We also value your time as much as we value our own. So, if we don't arrive at your house when you expect, we'll pay you back. With us, there's no more waiting around all day for an HVAC technician to arrive at your home!