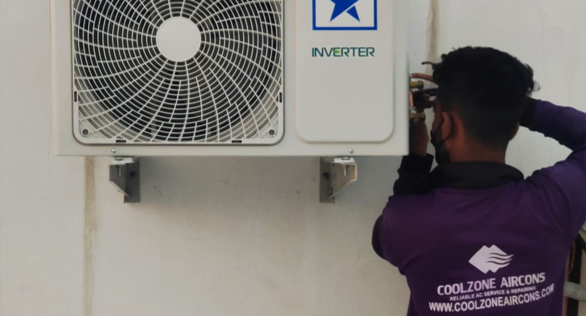 AC shifting in Vadodara
Cool Zone AC Shifting Service is indeed the best-in-class service provided by the experts who take care of your AC. Our skilled technicians carefully reinstall your AC at the spot you desire. We are among the very few AC Service firms that provide AC shifting services in the region. Based on your convenience you can pick the service timings and our service experts will assist you with all your AC shifting requirements.
Cool Zone offers AC shifting service at highly competitive rates in Vadodara. We provide service the same day, without any additional charge. Contact our experts to render the cycle of your AC shifting. Now you can avail the best-in-class service with a single call. Our qualified service professionals treat your AC like their own AC and offer the services with utmost care.
AC is reinstalled carefully and reset to the desired position. We are the only AC shifting service provider in close proximity to your home or workplace and protect all corners of the city 24×7. You can choose the timings of the service, and we can support you according to your convenience.Cool Zone AC shifting and AC Shifting in Vadodara operates in various air conditioning facilities, such as maintenance of ac, installation of ac, refilling of ac gas and so on. We find customer satisfaction to be our highest achievement, this customer satisfaction dimension separates us from other service centres located in Vadodara and other surrounding areas. We welcome you to have an inquiry about our gratitude, we are confident that all of our customers will witness the optimistic comments. We are also responsible for the long-term maintenance of your air conditioner systems. To get your stuff done by phone or by mail, you can contact us at any time. It is our commitment to improving the performance of air conditioning systems through our high-quality AC repair, installation and shifting services.
AC conditions are no longer a luxury business people are used to living in an air-conditioned atmosphere like never before. AC has become a quintessential need for us. We provide standard air condition repair, shifting and installation service in Vadodara and other nearby regions. If you're looking for a master technician in Vadodara to get your ac repair done, then there's no better service provider than us. Cool Zone has been a one-stop service station in Vadodara since its establishment for all kinds of ac repair services.
When You Need Reliability, Choose Cool Zone
At Cool Zone, we've built our entire business around the idea that our customers deserve the best possible treatment, starting with trustworthy technicians. In many instances, local One Hour locations are owned by technicians who have been serving and building trust with their local community for decades.
Every one of our technicians is licensed, qualified, and receives regular training to stay up-to-date with the latest developments and products in the industry. We want you to be happy, so we back all of our work with a third-party guarantee. This way, you can be certain that we are accountable to provide a high level of service on every visit.
Every Cool Zone location is independently owned and operated so you can be certain that you're getting a local expert. We'll arrive at your home on time and work with your needs, preferences, and budget to make sure that you're completely satisfied with our work! Every job by Cool Zone is backed with the UWIN Guarantee. We also value your time as much as we value our own. So, if we don't arrive at your house when you expect, we'll pay you back. With us, there's no more waiting around all day for an HVAC technician to arrive at your home!