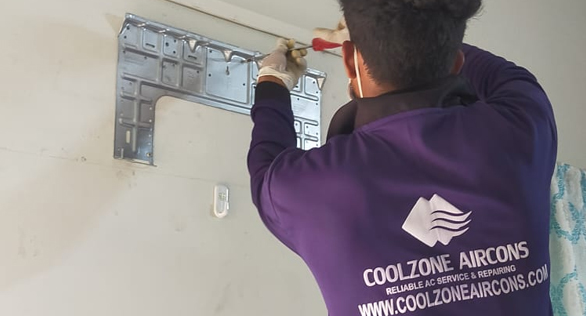 AC dismantle in Vadodara
When you don't hire the right technicians, your AC dismantling and uninstallation can be quite a hassle. This is achieved seamlessly and efficiently at Cool Zone. We have qualified technicians for the AC uninstallation and installation that ensure zero damage to your AC and surrounding furniture. If you are moving your residence to a new location or re-installing the AC unit, we ensure breakage-free dismantling and reinstallation. We also arrange transportation of the device to the new site. Our work does not disturb or damage walls or window frames that surround it.
If you're looking to buy a new air conditioner or if you're planning to switch your currently fitted air conditioner to another venue, then we're the right people to call and get the job done. The process starts with a call to intimate us that an AC uninstallation and installation is needed at your desired venue.
We have the right equipment and tackles to get the job done perfectly. What's more, we'd also determine the position of the installation and also recommend the best place the device can be installed and the tonnage deployment will also be measured.For the sake of customer loyalty, we offer AC uninstallation and installation services at a cost-effective price, leave your complaints to us and we'll fix it for you. We have a team of qualified technicians who can assist you with ac reinstallation and in less time, uninstall your air conditioner and more of the other services. For Window AC's, Tower AC's, Split AC's, Cassette AC's, and Ductable AC's we provide reinstallation and dismantling services.

Cool Zone has the best AC technicians, and the cost of our AC uninstallation service is very low. If you book AC service with Cool Zone, the service will be available on time, we have outstanding customer support to help you book the services you desire to avail. We also have on-demand AC installation and general service. Our AC technicians are skilled to uninstall and reinstall both Splits as well as Window AC.
When You Need Reliability, Choose Cool Zone
At Cool Zone, we've built our entire business around the idea that our customers deserve the best possible treatment, starting with trustworthy technicians. In many instances, local One Hour locations are owned by technicians who have been serving and building trust with their local community for decades.
Every one of our technicians is licensed, qualified, and receives regular training to stay up-to-date with the latest developments and products in the industry. We want you to be happy, so we back all of our work with a third-party guarantee. This way, you can be certain that we are accountable to provide a high level of service on every visit.
Every Cool Zone location is independently owned and operated so you can be certain that you're getting a local expert. We'll arrive at your home on time and work with your needs, preferences, and budget to make sure that you're completely satisfied with our work! Every job by Cool Zone is backed with the UWIN Guarantee. We also value your time as much as we value our own. So, if we don't arrive at your house when you expect, we'll pay you back. With us, there's no more waiting around all day for an HVAC technician to arrive at your home!