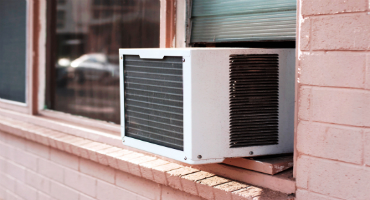 WE ARE PROFESSIONAL WINDOW AC REPAIR AND SERVICES IN VADODARA
A window air conditioner unit implements a complete air conditioner in a small space. The units are made small enough to fit into a standard window frame. You close the window down on the unit, plug it in and turn it on to get cool air.Window unit air conditioners are generally installed in an open window. The interior air is cooled as a fan blows it over the evaporator. On the exterior the heat drawn from the interior is dissipated into the environment as a second fan blows outside air over the condenser. A large house or building may have several such units, allowing each room to be cooled separately. We provide complete repair services from installation to its maintenance.
Attentive design, excellent systems and thorough testing of all of all our installations guarantee we meet the highest possible industry standards. All our fully qualified and experienced staff, from our test and service engineers to our customer support and after care service, are here to give you top quality service every time with high performance. We provide cost-effective solutions for all your requirements.
When You Need Reliability, Choose Cool Zone
At Cool Zone, we've built our entire business around the idea that our customers deserve the best possible treatment, starting with trustworthy technicians. In many instances, local One Hour locations are owned by technicians who have been serving and building trust with their local community for decades.
Every one of our technicians is licensed, qualified, and receives regular training to stay up-to-date with the latest developments and products in the industry. We want you to be happy, so we back all of our work with a third-party guarantee. This way, you can be certain that we are accountable to provide a high level of service on every visit.
Every Cool Zone location is independently owned and operated so you can be certain that you're getting a local expert. We'll arrive at your home on time and work with your needs, preferences, and budget to make sure that you're completely satisfied with our work! Every job by Cool Zone is backed with the UWIN Guarantee. We also value your time as much as we value our own. So, if we don't arrive at your house when you expect, we'll pay you back. With us, there's no more waiting around all day for an HVAC technician to arrive at your home!